Snowbombing 2007, Mayrhofen (Tirol)
Bombenstimmung gibt's vom 09.-15. April 2006 rund um das Schneesportgebiet Mayrhofen, wenn es die britischen Party-Streitkräfte beim Snowbombing Musik- und Boardfestival auch in diesem Jahr wieder so richtig krachen lassen werden. Internationale DJ-Grössen aus der Indie, Electro, Drum'n'Bass-, Techno- und House-Szene (u.a. The Scratch Perverts, Foreign Beggars (Live), DJ Fresh, M.A.N.D.Y., Einzelkind, The Cuban Brothers (Live), Louis Austen (Live), Rob Da Bank) garantieren bombiges Day- & Nightlife-Entertainment. Erstmalig treten auch Livebands wie The Long Blondes und The Young Knives auf. Ansonsten wird ein SnowSk8- und ein Slopestyle-Park vom allerfeinsten mit Rails, Kickern, Tabeltops, Hips, Quarters und Halfpipe, Tandem-Paragliding, Snow-Bike-Fahrten, BBQ-Partys mitten im Wald, LiveMusic-Performances, ComedyStyles, BreakDance oder Film-Nächte für eine ausgelassene Atmosphere sorgen. An-/Abreise, Unterkunft, Verpflegung, Skipass und Eventticket gibt's wieder als günstiges Package via
www.nachtagenten.de
. Außerdem sind ermäßigte Tickets erhältlich, wahlweise für einzelne Tage, das Wochenende und das gesamte Festival (inkl. Unterbringung). Lasst es diese Saison bei bomben Wetter und feinsten Beats noch mal so richtig krachen!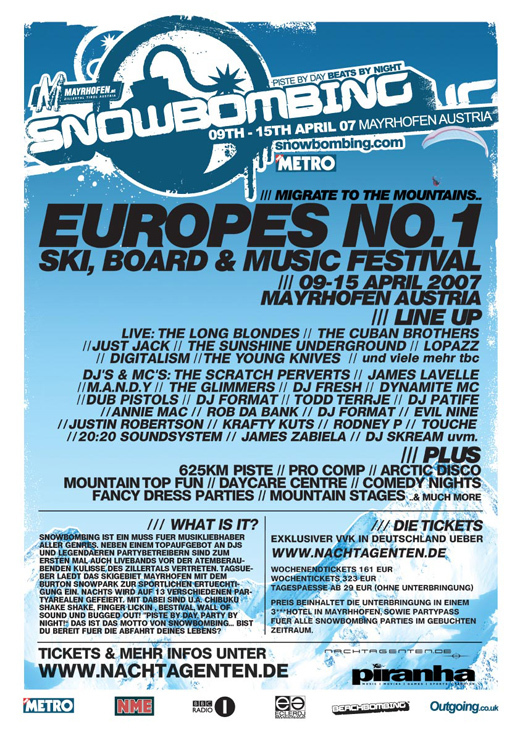 Was:
Snowbombing 2007
Wann:
09.-15. April 2007
Wo:
Mayrhofen/Hintertuxer Gletscher
Wen betrifft's:
Shredd- & Feierelite von der Insel und aus dem Rest Europas!
Musikstil: Indie, Electro, Drum'n'Bass-, Techno- und House
Line-Up: The Scratch Perverts, Foreign Beggars (Live), DJ Fresh, M.A.N.D.Y., Einzelkind, The Cuban Brothers (Live), Louis Austen (Live), Rob Da Bank u.v.m.
Was noch: Wildes Rocken onBoard + onStage, Snowboard Contests, Paragliding, SnowBiking, BBQ + MovieNights im Schnee, Comedy- & BreakDance-Sessions etc.

Web: Nachtagenten
LIVE ACTS:

GET CAPE. WEAR CAPE. FLY. / THE YOUNG KNIVES / THE LONG BLONDES / THE SUNSHINE
UNDERGROUND / DIGITALISM / JUST JACK / THE RUMBLESTRIPS / VINCENT VINCENT & THE
VILLAINS / THE CUBAN BROTHERS / MR HUDSON & THE LIBRARY / KITTY, DAISY & LEWIS / HOT CLUB DE PARIS / THE ENEMY / PULL TIGER TAIL / UFFIE / KID CARPET / FOREIGN BEGGARS / LOPAZZ / DEAFNY MOON PLUS MORE ACTS TBC

DJS:

THE SCRATCH PERVERTS PRESENT BEATDOWN / SWITCH / JAMES LAVELLE / JAMES ZABIELA / JUSTICE / M.A.N.D.Y. / ROB DA BANK / ANNIE MAC / JUSTIN ROBERTSON / DJ FORMAT / DEADLY AVENGER / EVIL NINE / THE GLIMMERS / BINGO PRESENTS: DJ ZINC / SIMIAN MOBILE DISCO / KRAFTY KUTS / GUILTY PLEASURES / FILTHY DUKES / SKREAM / DJ PATIFE (BRAZIL) / THE LOOSE CANNONS / DUB PISTOLS SOUND SYSTEM / RODNEY P / DJ FRESH /DYNAMITE MC / BEZ / ASKILLS/ JOE RANSOM / ALAN BRAXE & KRIS MENACE / SANCHO PANZA DJS / SOUL OF MAN / JEFF AUTOMATIC / TOUCHE / HEIDI / WILLIAMS / BARRY PETERS / DIFFERENT STROKES / TAYO / FRANK TOPE / UNCLE BUCK / GREG WILSON / DJ MEHDI / DJ FEADZ / BUSY P / BILL BREWSTER / TODD TERJE / DUKE DUMONT / DAVE BEER / EARL GATESHEAD / MC CHUCKY BANTON / MC SUPER FOUR / SINDEN / TRICKSKI / SKULL JUICE / TREVOR LOVEYS / JESSE ROSE / SOMBRERO SOUND SYSTEM / SCOTT NIXON / HUGH HERRERA (H-TRACK) / TOBY TOBIAS (REKIDS) / THE NEW TESTAMENT PARTY CREW/ CASPER C / TRISTAN DA CHUNA / PEOPLE ARE GERMS / MEKON / CLAUDE VON STROKE / PAUL THOMAS / ... & MANY MORE
PARTIES HOSTED BY:

BESTIVAL / SUNDAY BEST / ED BANGERS / GET PHYSICAL / WALL OF SOUNDS WINTER WIG OUT / BUGGED OUT! / CHIBUKU SHAKE SHAKE / TAYO'S TRACKSUIT PARTY / THE CULT OF ISSST SECRET PARTY / TIRK / SANCHO PANZA / FINGER LICKIN'/ TROJAN SOUNDSYSTEM / WARM UNIVERSAL VIBES / AND MORE TBC
Produkte, die Sie interessieren könnten