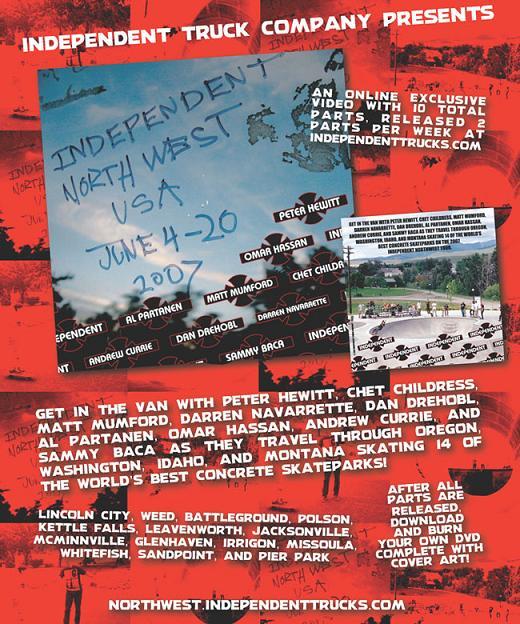 Die Presseerklärung dazu hört sich so an:
"Independent Truck Company is proud to present, our first ever video, in association with NHS Fun Factory, filmed and edited by Grant Schubert.
Get in the van with Peter Hewitt, Chet Childress, Matt Mumford, Darren Navarrette, Dan Drehobl, Al Partanen, Omar Hassan, Andrew Currie, and Sammy Baca as they travel through Oregon, Washington, Idaho, and Montana skating 14 of the world's best concrete skateparks!

Lincoln City, Weed, Battleground, Polson, Kettle Falls, Leavenworth, Jacksonville, McMinnville, Glenhaven, Irrigon, Missoula, Whitefish, Sandpoint, and Pier Park.
Independent Northwest 20007 is an online exclusive video with 10 total parts, presented in large format 640 x 480 and released 2 parts per week at northwest.independenttrucks.com. After all parts are released, download and burn your own DVD complete with cover art and watch it on your TV or computer in full resolution. You can also flip through the Slap Magazine article of the tour featured in the November 2007 issue."
Also: Top-Concrete-Skatepark-Ripper gehen Top-Concrete-Skateparks rippen! Man kann sich sogar das Video runterladen und sich (mit Anleitung!) eine richtige DVD draus basteln. Was für eine Idee!
Hier der direkte Videolink (Parts müssen einzeln angeklickt werden / bis jetzt sind zwei Parts verfügbar)
Produkte, die Sie interessieren könnten