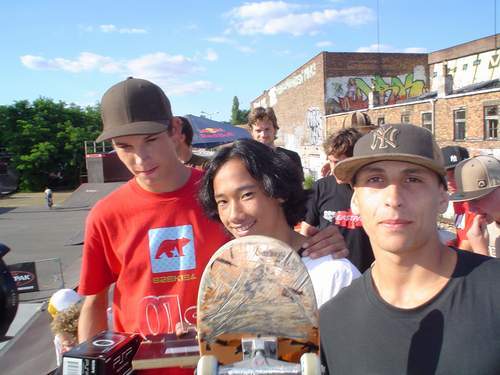 Jeremy,Lem und Anthony holen den Pott!
Im frisch renovierten Mellow Park battleten sich am Wochenende illustre dreiköpfige Teams um ein Preisgeld von 6000€ und hatten dabei verdammt viel Spass in den Backen. Am Ende setzte sich das Team Adidas (Jeremy Reinhard, Lem Villemin und Anthony Lopez) vorm "Bernd Schneider Racing Team" und "WeGhetto" durch.
Zwei von vielen Trickhighlights des Wochenendes waren der Backside Nosebluntslide von Mark Frölich an der mächtigen Ledge (first try!), und der riesige Kickflip Backside Grab von Chris Pfanner. Aber auch die Techdogs Lem Villemin und Alex Mizurov hinterließen mal wieder hauptsächlich offene Münder.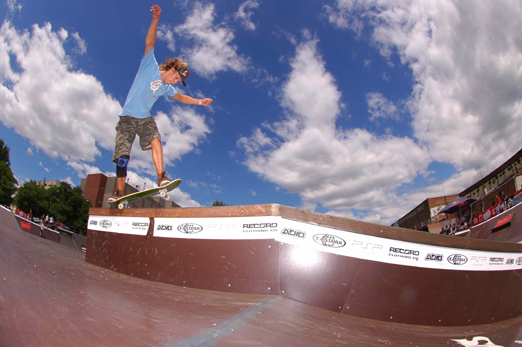 Stefan Guenter: Backside 180 to Fakie 5-0
Sogar Cooper Wilt und Chris Haslam vom Almost-Team gaben sich die Ehre und traten zusammen mit Limited-Fotograf und -Schreiberling Thomas Gentsch als Team auf.
Am Sonntag fand dann noch der heiß ersehnte Lake Jump Contest mit 3,50m Drop statt. Andi Welther gewann mit einem super smoothen Kickflip ins Wasser, Mack McKelton riss einen Frontflip mit Boardwechsel.
Mehr Infos gibt es auf Mellowpark.de
RESULTS CONTEST
Platz Name Firstname Age Co. City Sponsors
1 Team: adidas
1 Villemin Lem 16 D Ludwigsburg adidas, Matix, Titus, Lordz, Oakley
2 Reinhard Jeremy 22 D Köln adidas, Titus, Ezekiel, Wanze
3 Lopez Antony 22 ES Barcelona adidas, Quiksilver, Alien Workshop
Punkte: 226 - 3000 € Price Money!
2 Team: Bernd Schneider Racing Team
1 Kliewer Jan 29 D Berlin Globe, Jart, Carhartt, Lousy Livin, Search and Destroy
2 Mackrodt Michael 25 D Berlin Eastpak, Element, Search and Destroy
3 Stathis Dimitri 30 CH Berlin Sykum, Parkinglot, Sykum, Ragwear, Rellik, Swisster, Threeknow.
Punkte: 223 - 1500 € Price Money!
3 Team: we Ghetto
1 Schall Yannick 18 D Berlin 24/7 dist., Red Dragon, Osiris, Cliche, Bones, Venture, Cool Mouse
2 Mizurov Alex 18 D Rastatt Red Dragon, Equal, Hubba, Titus Karsruhe, Troyan Gloves
3 Draasch Leif 25 D Kiel Lakai, Matix, Hessen Mob, Royal, Asio Otus
Punkte: 208 - 900 € Price Money!
4 Team: Ricola
1 Hofer Jan 17 CH Zürich Eastpak, Sponsors 5 th district, Lakai, 4Star, Thunder, Bones
2 Salihi Monir 19 CH Solothurn Eastpak,Mada Clothing, Plan B, Silver Trucks, Globe Bones, Nixon
3 von Ow Severin 24 CH Büsingen Eastpak, Globe, 5 th District, Sig Sag Sug Skateshop, Silver, Bones
Punkte: 197
5 Team: die Opfer
1 Mc Lean Collin 18 D Berlin Globe, Titus Berlin, Radio Skateboards
2 Uhlmann Nino 25 D Berlin Globe, Radio, Titus Berlin
3 McKelton Mack 20 D Berlin Globe, Red Bull, Forvert, Titus Berlin, O`GIO, Cannaboard
Punkte: 128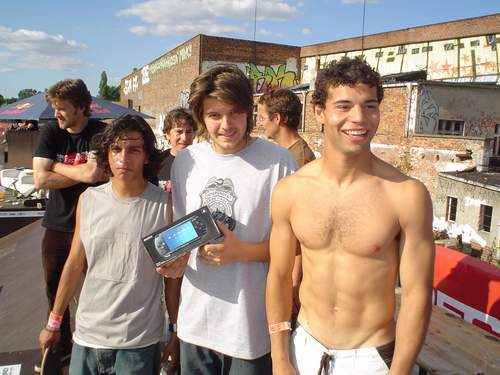 Die Gewinner des Lakejump Contest: Monir (3.), Andy (1.), Mack (2.)
RESULTS LAKE JUMP CONTESTPlatz Name Trick Preis
1. Andy Welther Kickflip 300 € + PlayStation Portable
2. Mack Mc Kelton Frontflip Board-Switch 200 €
3. Monir Salihi BS Nollie 360 Nosebone 100 €
Alle Bilder: Finelines Marketing
Produkte, die Sie interessieren könnten