Seismic introduces revolutionary skateboard urethane formula!


Boulder, Colorado - Seismic Skate Systems, a 15-year-old Boulder-based manufacturer of high-performance boards, wheels and trucks, is pleased to introduce wheels poured with a revolutionary new urethane compound, code named "Black Ops".

"It's a racer's dream, the perfect combination of grip, speed, and super rebound with no compromises," said Seismic Wheels Team Member and 2003 World Slalom Champion Kenny Mollica.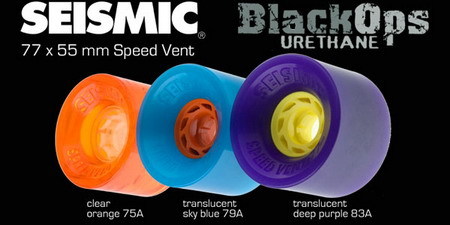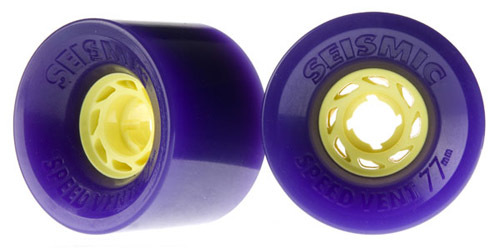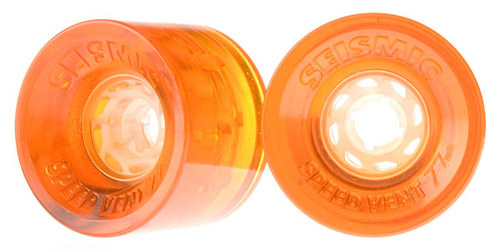 According to Team Member Gary Fluitt, the 2004 World Slalom Champion and 2007 World Slalom Champion Runner-Up, "the new formula has a surprising combination of grip and rebound like I've never felt before. These grip so well that I run out of road before I can get them to slide. The roll feels superior, too."

Traditional urethane formulations wrestle with an inherent tension between traction and bounce. Crank up either one and you trade off some of the other.

Now you can have it all! Seismic Black Ops™ urethane offers more grip and rebound together, in the same formula, than the skateboard world has ever seen before.

"It's like a new page in racing history," Mollica added. "These wheels are smooth, fast, and grippy through hard turns with no mush. Lightweight cores and cool colors, too!"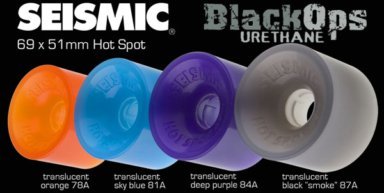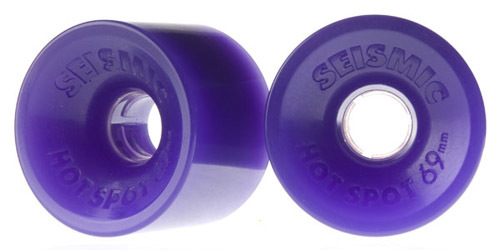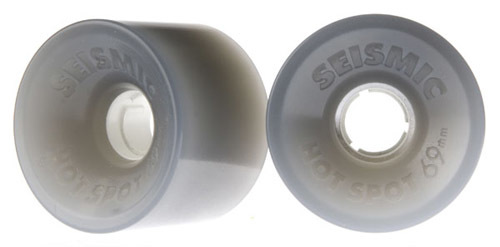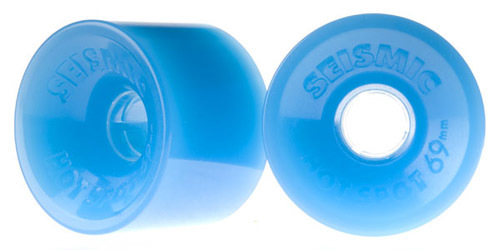 Said Neal Piper, the world's foremost urethane wheel engineer and owner of the renowned California factory where Seismic wheels are poured, "Black Ops is the result of years of experience in precise polyurethane formulating and unique processing. Starting with a great base of top level science, a huge ration of sweat and skill from many actively competing testers drove this super-tuned racing formula to a new standard of World Class performance."

Introduced in 2005 and 2006, Seismic 69mm Hot Spots and 77mm Speed Vents are now available in Black Ops urethane and a new high-contrast color scheme emphasizing orange, blue and purple. Other Seismic wheels will be available in the new formula later this season.

"There's all sorts of gimmick wheel shapes out there, but I find that the Hot Spots out of the box are the best shape on the market for slalom racing," Fluitt added. "I don't feel like I have to modify them in any way. In the new Black Ops formula, they're better than ever - just really reboundy and grippy."

In related news, the 77mm Speed Vent, used by downhill racer Erik Lundberg to earn the IGSA World #1 ranking last year, is now poured on the full version of Seismic's proprietary Energy Conversion core (also used for the 78mm Blast Waves and 85mm Speed Vents). The 77mm Speed Vent is nearly one-half ounce lighter than before, with rebound turbo-charged by the spring action of the core's outermost ring.

Said multi-time World Slalom Champion Jason Mitchell, "I won the 2007 Ditch Slap on 77mm Speed Vents, so I felt confident about the wheels going into the Indian School race [April 18, 2008]. But I was very surprised with the enhanced performance of the design and [Black Ops] formula. Seismic took a big wheel that was already great, and made it even better."

At Indian School, Mollica added, the 77mm Speed Vents "were awesome. We all loved 'em. The core is the perfect size."

Seismic founder/owner Dan Gesmer commented, "We're super excited about this progressive urethane chemistry. It's all about continuing the tradition of innovation we began in 1994 when we rolled out the original patented Seismic carving truck."

For further information and pricing, contact Seismic at 720-937-8948 or info[Klammeraffe]seismicskate[Punkt]com. This e-mail address is being protected from spam bots, you need JavaScript enabled to view it , or visit www.seismicskate.com

Note: The Black Ops formula is only used for wheels 78A and harder. Seismic wheels softer than 78A, and all 3dm-brand wheels, are poured in the company's classic high-grip formula.
Produkte, die Sie interessieren könnten