ABEC 11 Wheels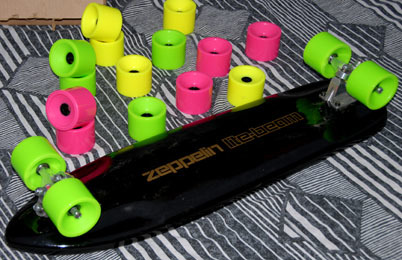 You love your 66mm and 70mm ZigZags for Tight Slalom and Hybrid. But what about a bigger wheel for Giant Slalom and Downhill? The short term solution was found in pouring the Reflex formula into Abec 11's Gumball molds. These limited edition wheels were made available to racers while a "true" big ZigZag wheel was in the works.
(Colors: Lemon, Lime and Pink...)

I'm pleased to announce that the third installment in the Reflex formula ZigZag series is here. The new 75mm "BigZigs" are exactly what you'd expect them to be – really big ZigZags. At 58mm in width, they are the widest production wheel that we make. Like the 66mm and 70mm ZigZags, the 75mm BigZigs have an offset hub orientation with flexible inner and outer lips, both of which extend out further. This provides a 6mm wider contact patch for more traction and control at the higher speeds attained in Giant Slalom. Traction and roll speed is the name of the game in GS, and the BigZigs give you gobs of both.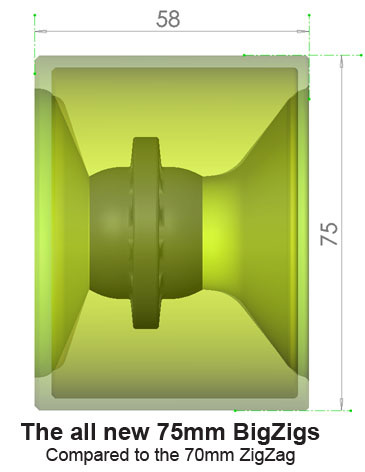 BigZigs are offered in the three stickiest durometers 77a (Pink), 80a (Lime), and 83a (Lemon). BigZigs are high speed suction cups, and are available now.
More info about ABEC11 wheels click here

Written by Chris Chaput


Produkte, die Sie interessieren könnten