New from Seismic is the Blast Wave, 78mm tall by 50mm wide with a radiused outer lip for high grip with controlled sliding. It's molded around the full version of the company's proprietary Energy Conversion core, making it astoundingly light for a wheel of this size - so much so that Seismic expects top racers to use it for disciplines ranging from Tight Slalom all the way to technical Downhill. Truly a "blast" to ride, and destined to rewrite the book on the versatility of tall wheels.

The Blast Wave is available in 75A clear orange (on white cores) and 79A white (on "smoke" black cores). Pricing is identical to the 77mm Speed Vents.

Blast Wave 79A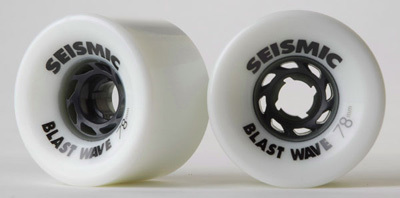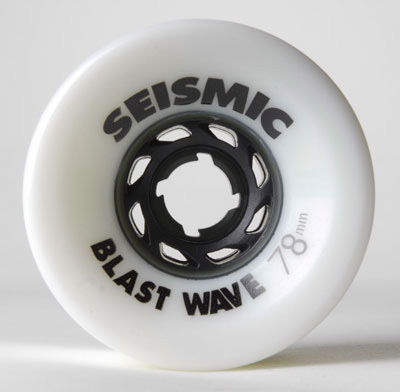 Blast Wave 75A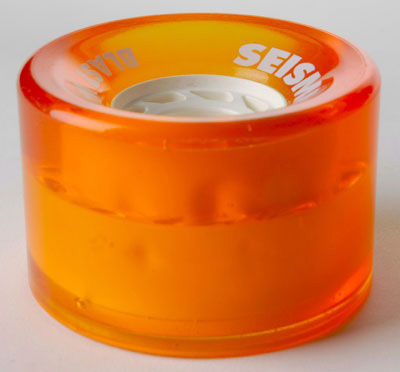 The 3dm Avila (75mm tall by 65mm wide) is now available in 81A bright blue, in addition to 73A classic clear red and 77A white. The yellow 84A Avila has been discontinued. In the Seismic Hot Spot (69mm tall by 51mm wide), the 76A duro is now translucent sky blue instead of classic clear red. Furthermore, like every other white wheel in the Seismic/3dm line, the 77A white Avila and the 80A white Hot Spot are now bright white, instead of creamy off-white.

Avila 81A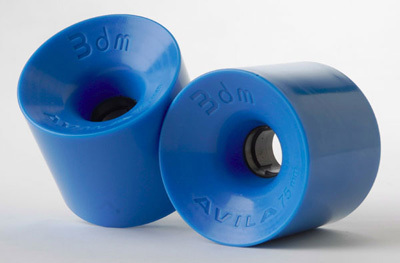 Avalon 80A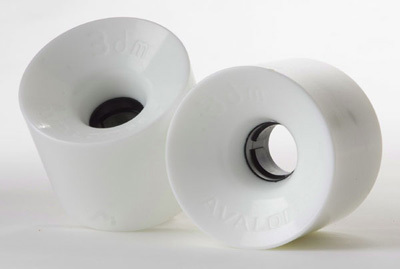 Speed Vent 77mm 79A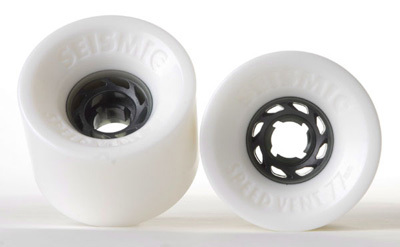 Speed Vent 77mm 75A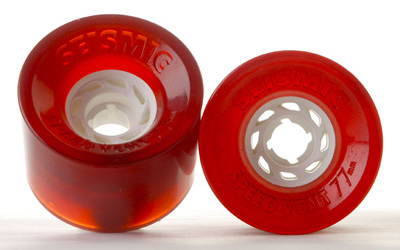 Speed Vent 85mm 75A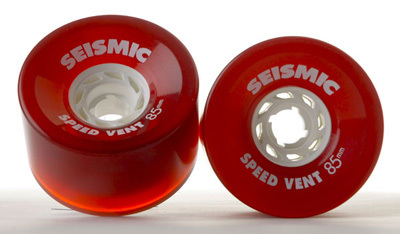 Speed Vent 77mm 83A

Hot Spot 76A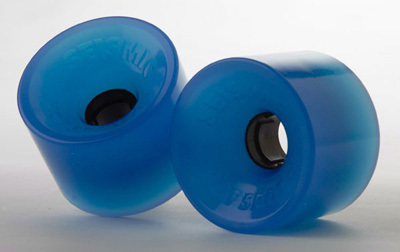 Hot Spot 80A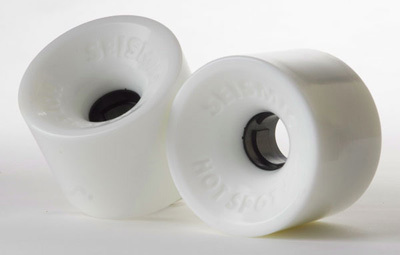 Finally, some changes in the Speed Vent line. In both the 77mm and 85mm sizes, the 75A clear red duro is now on a bright white core, and the 79A white duro is on a "smoke" black core. The 83A duro in the 77mm Speed Vent is now bright blue urethane on a bright white core.

All Seismic products can be viewed and purchased at www.geoskate.com

For further info, email info[Klammeraffe]seismicskate[Punkt]com

P.S. Please note that the clear orange urethane creates an optical illusion in the 75A Blast Wave, causing the core to appear (from one angle) much closer to the wheel surface than it really is.


More infos about Seismic wheels click here
Written by Dan Gesmer
Produkte, die Sie interessieren könnten