Vom 20. - 21. Oktober fand das diesjährige Downhill Event in Bainbridge/Ohio der
IGSA World Cup Series
statt. Teilnehmer kamen von allen Teilen der USA, von Kanada, Brazilien, Schweden und der Schweiz angereist, um sich einen "rasanten" Wettkampf auf der 1,3 Meilen langen Strecke zu liefern. On October 20-21 the IGSA World Cup Series made its annual trip to Bainbridge, Ohio for the Demons of Downhill. Competitors came from throughout the United States, Canada, Brazil, Sweden, Austria and Switzerland to challenge the 1.3 mile race course that winds its' way down Jester Hill. The Downhill Skateboarding class was dominated by a contingent of three Swedish riders who were routinely recording speeds of 67.7mph (109kph) that featured a series of sweeping turns, blind corners and rollercoaster type up and down sections. In Street Luge and Classic Luge it was a group of veteran American racers who controlled the event.
Friday was practice day at the Demons of Downhill. The course was still wet from a storm that hit the area on Thursday but by noon the track was mostly dry. All of the competitors were instructed to take I easy on the first practice run but right from the beginning it was apperant that the Swedish team of Fredrik Lindstrom, Olle Van Keppel and Mathias Goransson meant business. While the other riders were all foot braking through the chicane section these three riders were only air braking. By the end of the day they were taking the section full speed and never breaking their tuck. It was amazing watching 16 year old Van Keppel in particular, as he balanced on his front foot and steered his board with only the big toe of his back foot in excess of 65mph!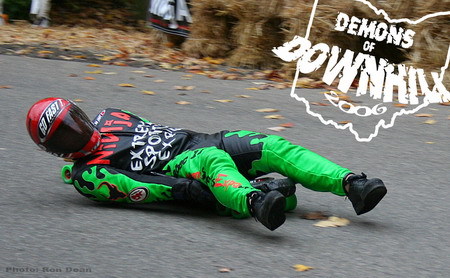 In both Street Luge and Classic Luge it was the veterans John Fryer, Dave Auld, David Dean, and defending champion Mike McIntyre who seemed to be laying down the fast times. In Downhill Inline defending IGSA World Cup Champion Scott Peer and veteran Warren Focke had some new competition with a group of three Canadian racers from Montreal making the trip to Ohio. McIntyre also took some blistering runs on his gravity bike. Fortunately the rain stayed away the entire afternoon and every rider was able to take a lot of practice runs.
Saturday turned out to have the best weather of the entire weekend. It was a warm, bright, and sunny day with temperatures in the 70's. Every rider was given two timed qualifying runs after having three practice runs in the morning. In Downhill Skateboarding it was all about Team Sweden. Fredrik Lindstrom took the number one qualifying spot with a time of 1:47.968. Olle Van Keppel followed closely in second with a time of 1:48.115. In third it was Mathias Goransson at 1:54.012 and American Josh Rolf fourth with a 1:56.821. Brazilian Andre Toporovicz rounded out the top five with a time of 1:57.833.
In Street Luge it was John Fryer putting in the dominant performance. He laid down a blistering 1:34.140. Bill Smirtic found some additional speed on Saturday and took the second position with a 1:35.075. In third and fourth it was Dave Auld with a 1:35.950 and David Dean at 1:36.178. This was Dean's first race back after breaking his ankle at the Swedish World Cup back in July and he didn't seem to have lost any of his speed. Rounding out the top five was Mike McIntyre with a 1:36.860.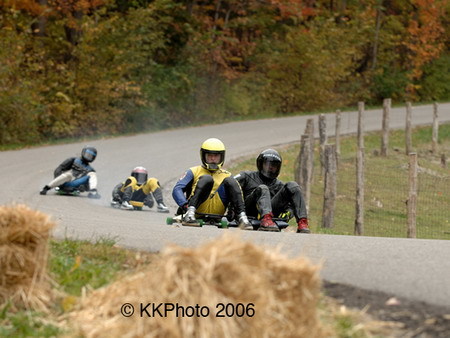 In Classic Luge John Fryer took the number one qualifying spot with a time of 1:39.327. Scott Peer was the number one qualifier in Inline Downhill with a time of 1:54.215. Mike McIntyre turned a 1:38.013 on his gravity bike. Holly Weiss qualified for Women's Downhill Skateboarding with a time of 2:43.845. It turned out to be a safe day of riding with no serious injuries even though lots of riders tasted the straw in turn one.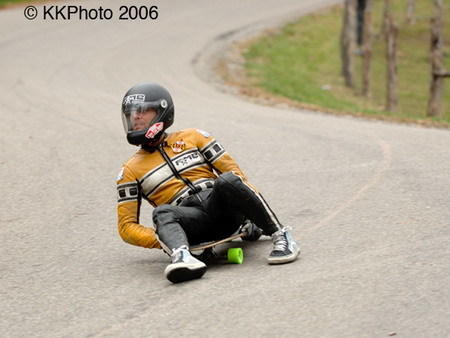 It rained on Saturday night and for Sunday the weather forecast was for a 40% chance of showers in the afternoon. Because of the bad forecast it was decided to run Downhill Skateboarding first while the track was dry and the weather was good. As expected Team Sweden dominated all of the preliminary heats but in the final things took an unexpected turn. Coming through the chicane it was the American Roth in the lead followed by the Swedes Lindstrom, Van Keppel and Goransson. Lindstrom set up the draft perfectly on Roth and decided to make a pass on the outside of the final corner leading on the long final straight. Why Lindstrom chose to pass on the outside is a mystery but as Roth drifted wide, Lindstrom ran out of room and ended up crashing in a grassy field in excess of 60mph! Fortunately he was unhurt. Van Keppel took the inside line and went by Roth and Goransson drafted by both of them to take his first ever IGSA World Cup victory. Everyone was really happy to see Gorannson win although Lindstrom must have had a severe case of "What if" after dominating the entire weekend.


In Street Luge there was controversy in the early rounds. Number two qualifier Bill Smrtic was disqualified in the second round after some questionable tactics at the start. This enabled World Cup Series leader Beni Weber to move to the third round after seemingly being eliminated by finishing third in the heat. In the final it was Fryer, Auld, Dean and Christopher Hicks. As the riders approached the chicane section David Dean had a huge lead but for some reason he tapped his brakes. Maybe he still has some residual fear from his accident earlier this year but whatever the reason he sealed his fate at that moment. Both Auld and Fryer were in his draft and bearing down on him like a freight train as they excited the chicane. As they rounded the final corner leading to the long straight Fryer first went by Auld and then set his sights on Dean. Dean tried in vain to zig zag down the straight and break the draft but Fryer was not to be denied. He took the lead and the victory and dragged Auld up to second in the process. It was a fine tactical race by Fryer and a performance that won't be forgotten anytime soon.

In the Classic Luge race Fryer put in another dominating performance.
He took the victory followed by Dean in second, Weber in third and fifteen year old Riley Meehan in fourth. Warren Focke won the drafting competition known as Downhill Inline Skating. He was closely followed by Peer and Canadians Olivier Fortier, Daniel Caron, Nicolos Ratthe. Both Mike McIntyre and Holly Weiss took uncontested victories in Gravity Bike and Women's Downhill Skateboarding respectively. Fortunately the rain stayed away the entire day and all of the races were held on a dry course.
Over the weekend David Dean announced that this was the final time he will be organizing the Demons of Downhill in Bainbridge. Fortunately a few other potential event promoters expressed an interest taking over the event and organizing it in 2007. We hope someone takes it over because it's an awesome race-course and the town of Bainbridge, Ohio seems very keen on seeing the event continue. Special thanks go out to David Dean for organizing the event, David's parents who helped enormously doing registration, course construction, corner marshaling, uphill transportation and various other tasks. Also a big thanks goes out to Bob Ozman, John Ozman and Marcus Rietema of the IGSA who did a flawless job of organizing the competition and kept the event flowing smoothly.
Kent Kocheiser shot most of these photos. For many more, check out his website: HERE. Kent is the photographer that's produced a lot of photos you'll recognize from gravity sports coverage.

Hungry for more? Watch the Meehans' killer video of the racing at Bainbridge, HERE.

For complete and comprehensive results please visit the IGSA website: HERE .

Written by Silverfish, with Marcus Rietema

Produkte, die Sie interessieren könnten