DEC 8-10,
Hot Heels Africa,
Kogelberg, Cape Town, SA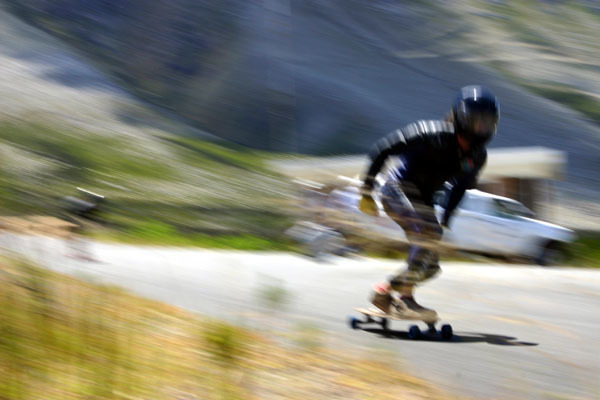 Moadl Wellein sets up for a scary left. He rode his motorbike from Germany, down the west coast of Africa, to be here. Photo Jo Bentley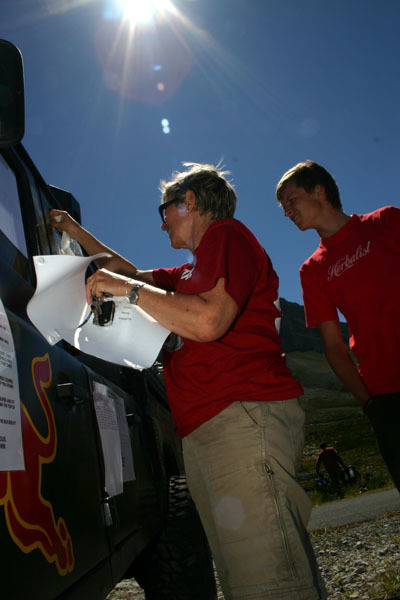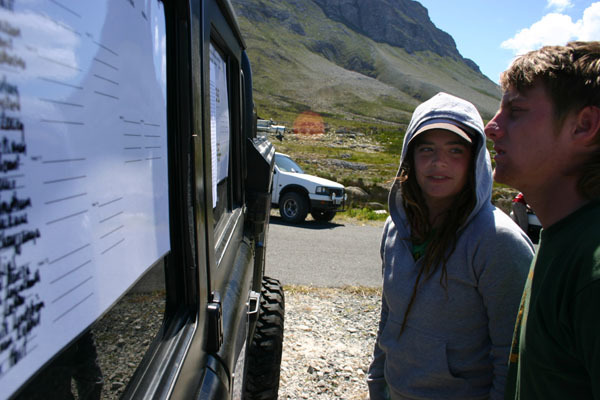 The final and deciding downhill race of the year wrapped up the IGSA season on beautiful South African shores. In the mountains of the Kogelberg Nature Reserve, on what was once apartheid South African military property, racers from all over the world raced hard and fast for the world title. The Kogelberg Hot Heels Africa, born out of the legendary race at Kaunerthal, Austria, is a World Cup event and carries a high number of IGSA points for competitors. In the skateboard category, Fredrik Lindström, Olle van Keppel and Erik Lundberg – all friends from Stockholm, Sweden – vied for the number one position. They were all adamant, however, that the only reason they flew to the bottom of Africa for only one weekend was "to hang with the boys".
Hanging with the boys, and Bettina Luginbuhl from Switzerland, turned out to be tough work with solid competition and fierce racing that landed three Swedes and a South African in an ambulance. Thankfully none of the injuries was overly serious.

Lindström, already the most likely candidate for Skateboard World Champion, won the race and so the 2006 IGSA race series.


Lindström before the left. Photo Jo Bentley
Luginbuhl, racing on a broken ankle and the only woman at the race, took the top women's World Championship position for 2006.
Entries in the streetluge and classic luge categories were few, but racing was also tough. Leander Lacey – taking the top qualifying time in both categories – won street luge ahead of Beni Weber, and earned second behind Weber in classic luge. Weber is the 2006 World Champion for both.
Racers practiced on Friday, practiced and qualified on Saturday and raced on Sunday.
The course began with right-kinked straight that took skateboarders to about 65km/h. Top skaters carried this speed flawlessly around a 90 degree, right sweeper before diving around a scary, narrow and suddenly tightening left sweeper. Exit speeds – actually survival, to be frank – was crucial in this turn, which set racers up for a long straight, a flat spot, a little uphill bump and a plunge around a slippery right turn, followed by more drafting and sweepers. That left "sweeper" also claimed four riders' ability to compete, as well as a good decade off of each of their lives.
In an early practice run on Sunday morning, Olle van Keppel followed Jesper Edvinsson at full speed into the turn. Edvinsson slid and clipped the hay and van Keppel's skateboard speared his from behind as they both spun out across the exit of the turn. Following close behind, Capetonian Craig McKune got lucky and slipped through unscathed while another Capie Tibor Herry plunged into the pile of Swedes.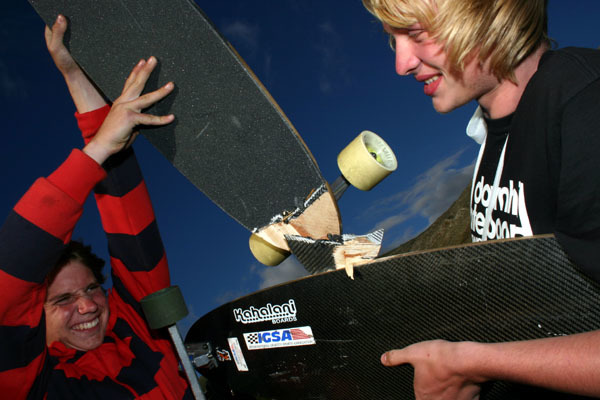 injured swedes, van Keppel and Edvinsson show their injured boards after a tough crash involving 3 racers. Photo Craig McKune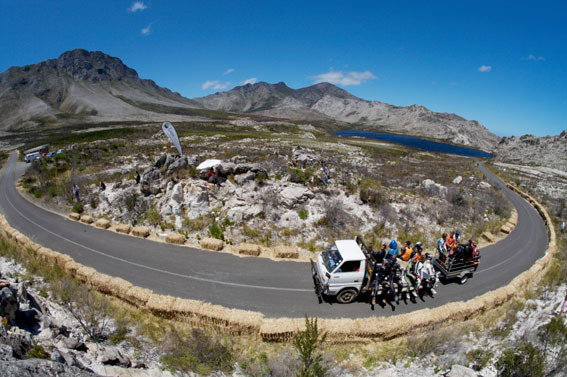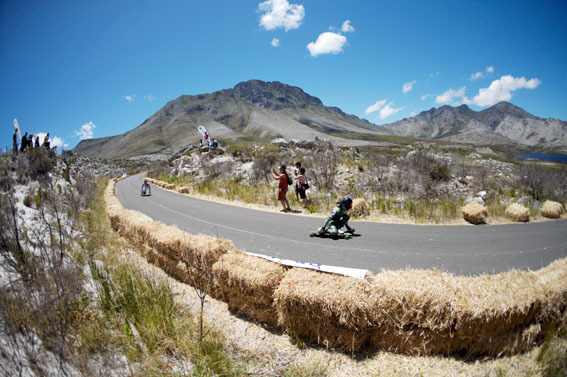 All three were taken out of the racing with elbow, leg and skateboard injuries.
In an even tighter semi-final, Swede Erik Lundberg tried to pass Capie Decio Lourenco in the same turn while immediately behind them Swede Anders Österling took an inside line on the Swiss Jody Fromant. Österling's line was cut too fine and he axel-ground the edge of the road, was launched of his board, pawed Lundberg's back as he fell and landed squarely on his head.
Österling landed up in hospital and racing was delayed while another tense semi-final heat waited at the start line: South Africans Mike Zietsman and Stuart Bradburn, Brazilian Luis Lins and Lindström.
Lindström narrowly won that one followed by Zietsman, taking them both into the final heat alongside Lundberg and South African wildcard Decio Lourenco. The final was just as tight. Please check all the results at
www.gravity-sports.com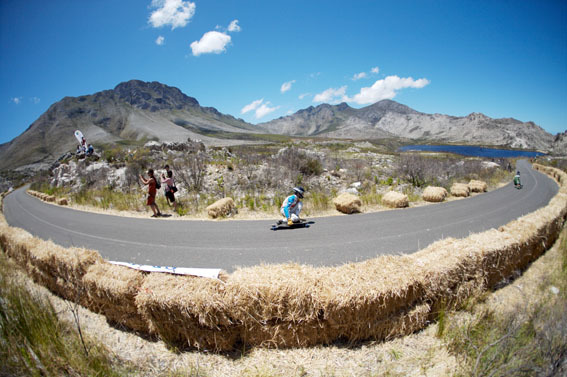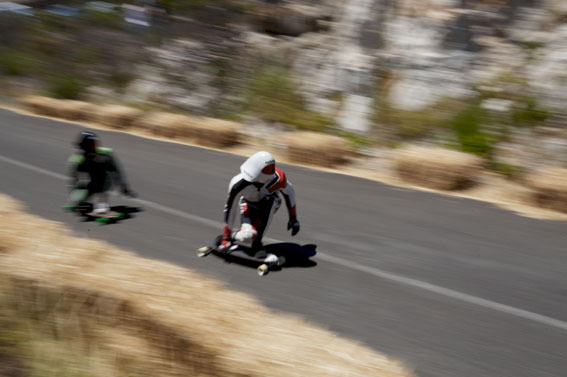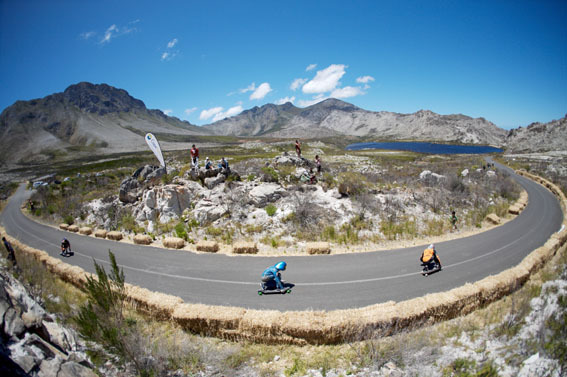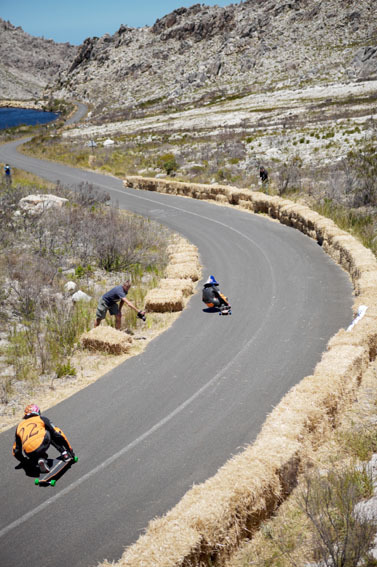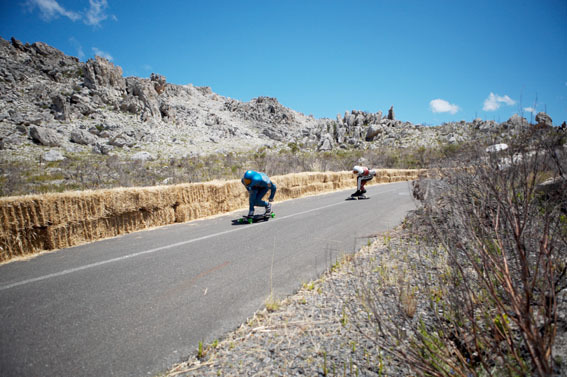 finalists Zietsman (2nd) and Lindström (1st) head up the hill for prize giving. Jody Fromant (7th) on right. Photo Craig McKune
Hery, Österling, Edvinsson and van Keppel are all alive and kicking, albeit softly.
A flippin' good weekend's racing all in all, and big thanks go out to medics who looked after our bruised mates and to Zoo York, Hemporium, Sport Unlimited and also to Red Bull who have sustained crucial support for downhill racing in South Africa ever since 1999. – SAGRA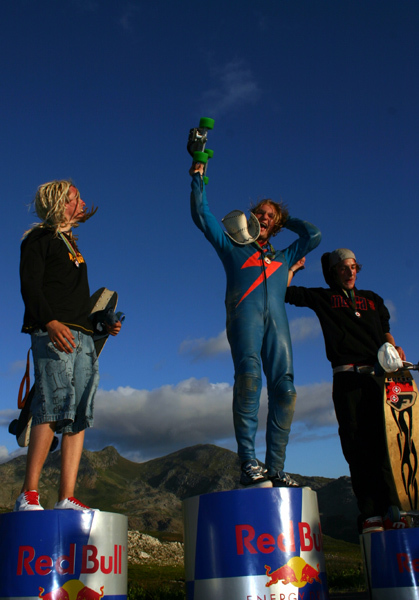 Zietsman, Lindström , Lourenco (3rd). Photo Craig McKune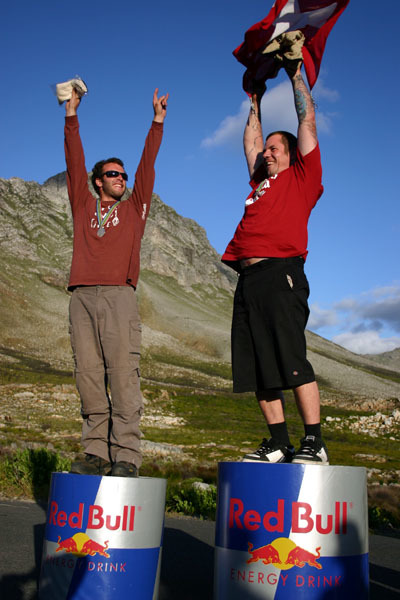 Text by Craig Mckune
Pics Craig Mckune, Jo Fox and Justin
i would like to say thanks for Craig, Jo and Justin.
Produkte, die Sie interessieren könnten