Hautacam IGSA Regional race – France, JUN 23-24
First IGSA race from this season in Europe
Thursday 21 June:
I meet Jody and Caro in Nyon at Friday night, we slept in Caro´s house and next day went to Geneva for meet Jojo and the others guys very early.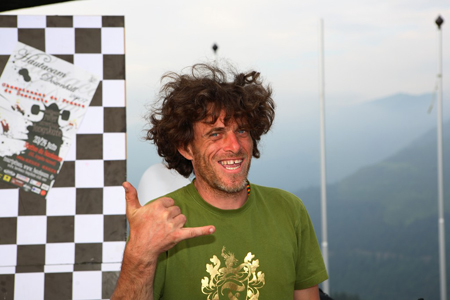 Friday 22 June:
We woke up and went to the shop to buy a lot of food because we have long way to Hautacam, at 11:00 we met Jojo in Geneva and started the trip. After 11 hours we arrived in Hautacam, set up the tents and went to sleep for the next day. The road was great with 2 hairpins + 4 hard turns, the surface was not super good but ok.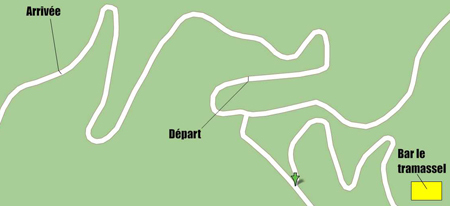 Saturday 23 June:
Everyone woke up early, we started at 09:00 with warm up run, and we did 7 runs in the morning before the lunch break, a great lunch break. After the lunch break we did one warm up run and the qualify start where Bruno from Sector 9 had the best time 1.46.06 with prototype wheels made in France.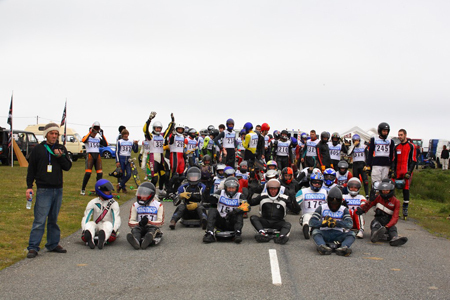 Looks like really good new product that will do one big revolution on the wheels market, sure that Bruno is really good young rider from Sector 9 and did great job in the race. After the qualify from Rollers, Luge´s, Buttboarders and Skullboarders we had more runs of free ride, then we finished the time for ride on Saturday. At Night we had a great dinner all together, it was really fun and after that we watched the amazing DVD from the first French championship in 2007.
Sunday 24 June:
We woke up at 08:00, but it was really bsd weather and a lot of rain. So we waited until at 12:00 for and dried the course, the street luge and buttboard had free ride in the rain.
At 13:00 we got great weather and a dry course after almost 5 hours, we had 3 warm up runs before the race started. The standup had 50 riders, everyone had qualify for the race, a very good decision from the organizers. Well, the competition was full of really good riders and had tired race, I made the 7th place in the quali and the same on the race, Bruno had the best qualify time won the race.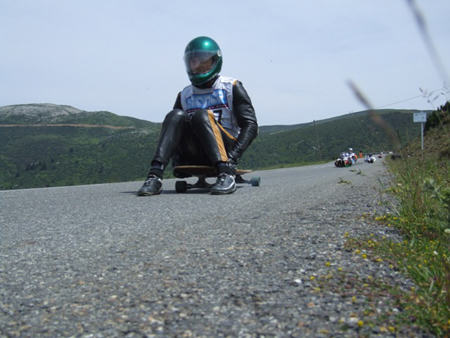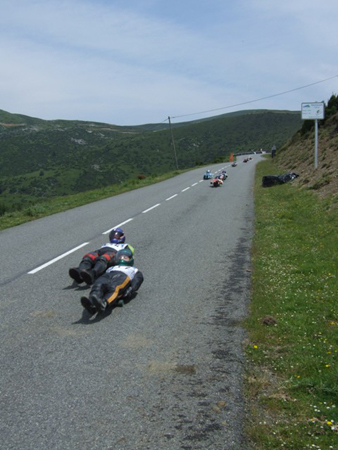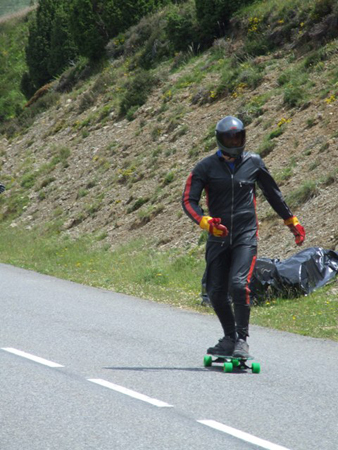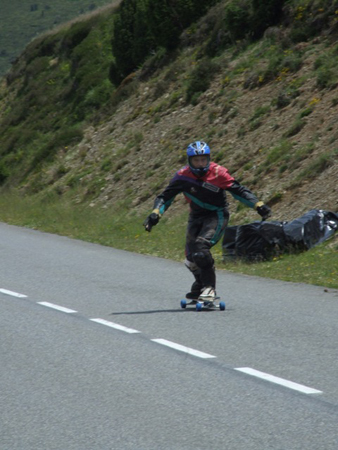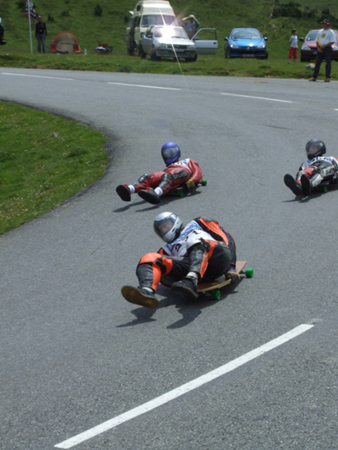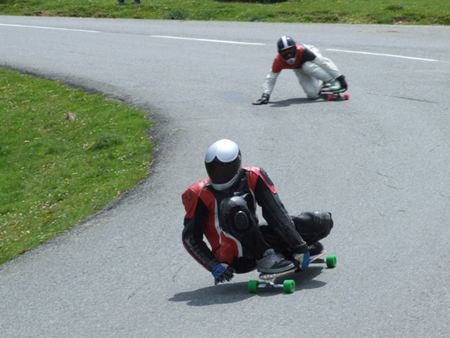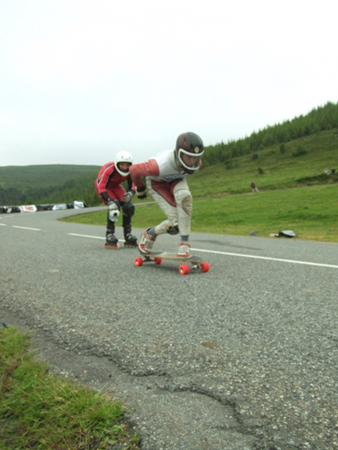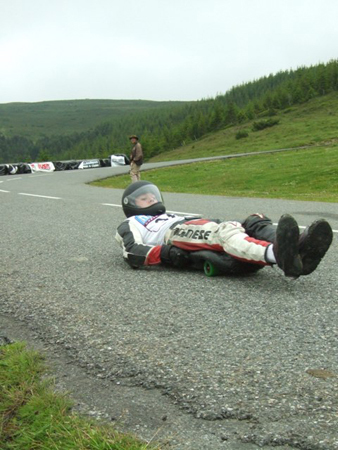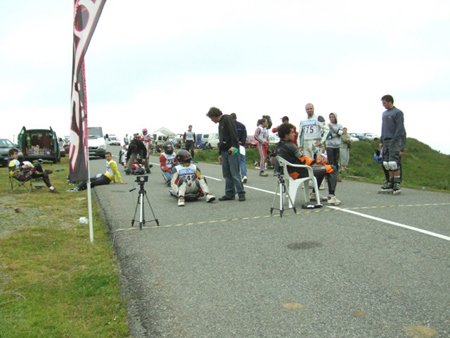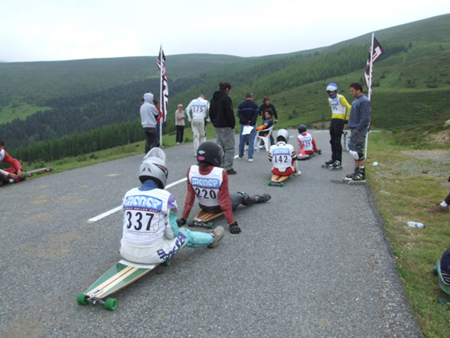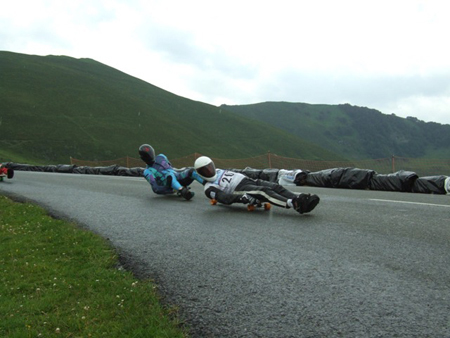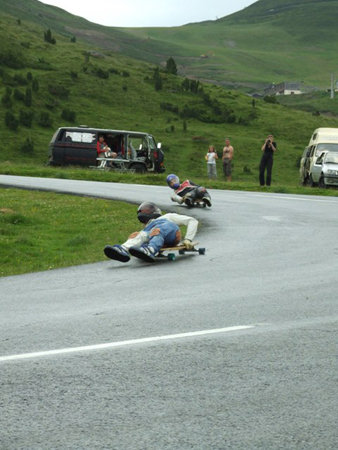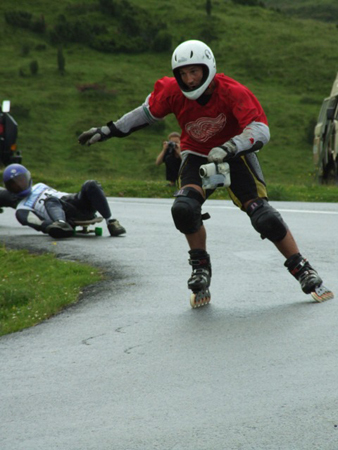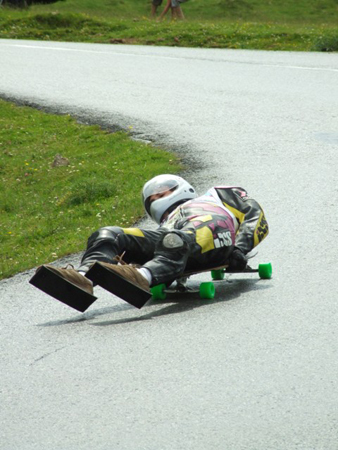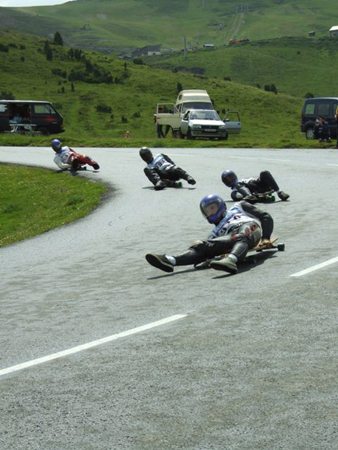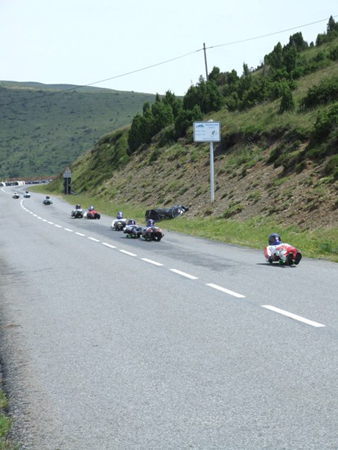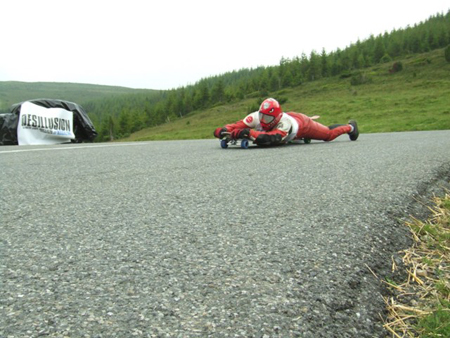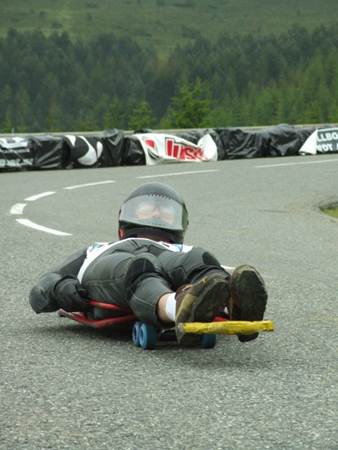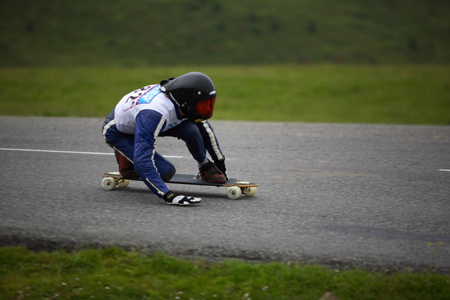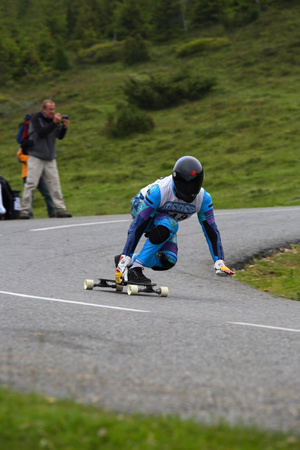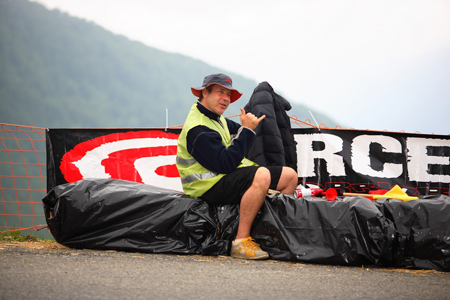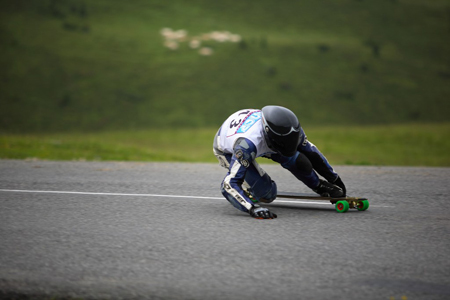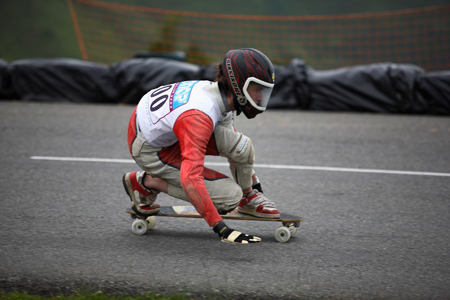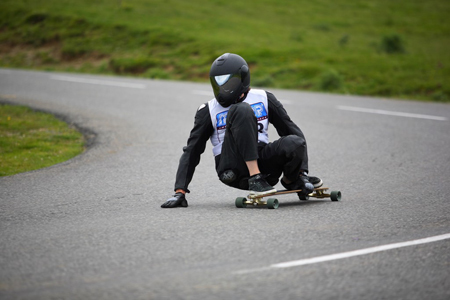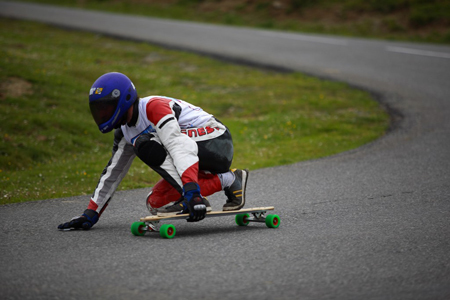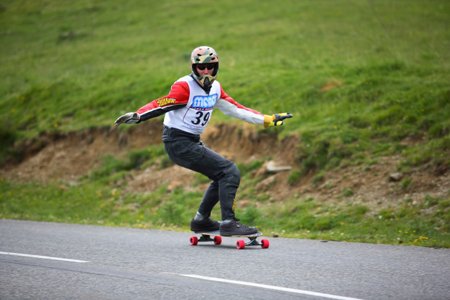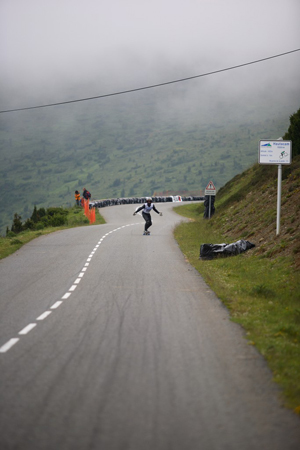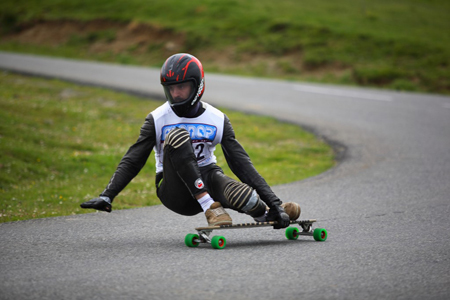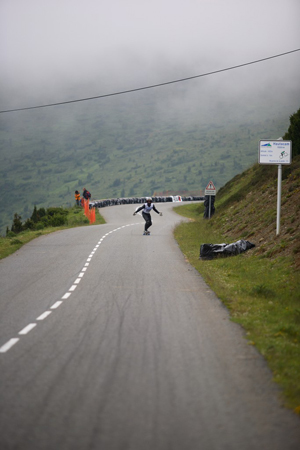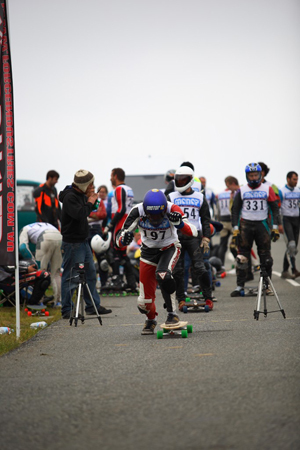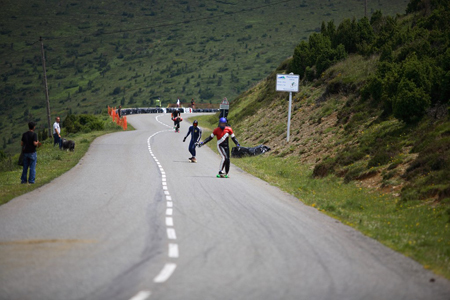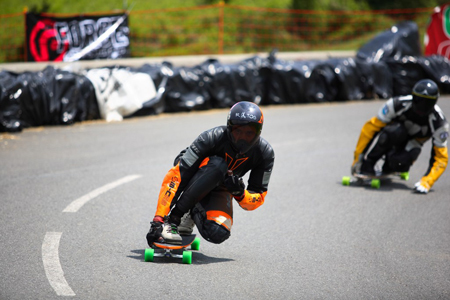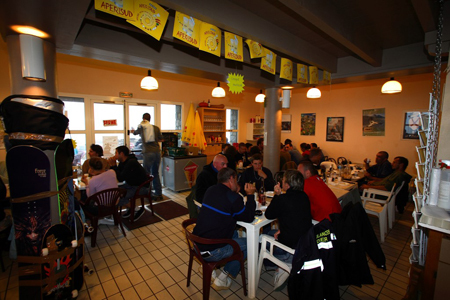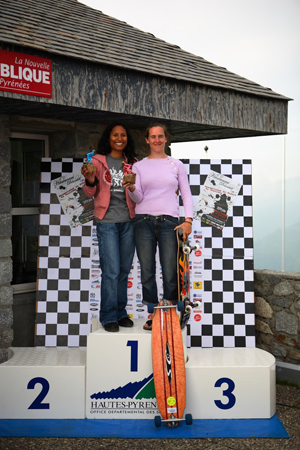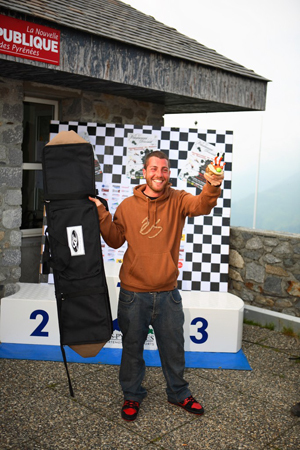 I would like to say thanks to Koma and Odix they really nice guys and did great jog amazing organization. Congratulation my friends.
Complete Results:
Skullboards Man:
| | | |
| --- | --- | --- |
| Classement | Nom Prénom | Temps de qualif |
| 1 | Claude Gesta | 01:55:10 |
| 2 | Gerber Gregory | |
| 3 | Debril Nicolas | 01:51:53 |
Skullboards Woman:
| | | |
| --- | --- | --- |
| Classement | Nom Prénom | Temps de qualif |
| 1 | Faupin Charlotte | 01:58:64 |
| 2 | Mordon Séverine | 02:15:26 |

StreetLuge Man:
| | | | |
| --- | --- | --- | --- |
| Classement | Nom Prénom | Pays | Temps de qualif |
| 1 | Tournissac Sebastien | France | 01:45:28 |
| 2 | Dekyndt Gauthier | France | 01:45:60 |
| 3 | Zaccaro Loic | France | 01:44:28 |
| 4 | Peyrusaubes Clement | France | 01:45:10 |
| 5 | Chaperon Stéphane | France | 01:45:44 |
| 6 | Labarthe Yvon | Suisse | 01:46:73 |
| 7 | Filiatre Nicolas | France | 01:47:52 |
| 8 | Wagner Olivier | Suisse | 01:46:64 |
| 9 | Hazera Pierre | France | 01:48:51 |
| 10 | Fromenteil Pierre | France | 01:49:10 |
| 11 | Lalanne Remi | France | 01:49:61 |
| 12 | Garcia Calixto | Espagne | 01:51:29 |
| 13 | Etienne Martin | France | 01:48:72 |
| 14 | Gerber Gregory | France | 01:49:54 |
| 15 | Gillissen Damien | France | 01:49:63 |
| 16 | Bessière Romain | France | 01:53:28 |
| 17 | Saint Marc Yoan | France | 01:57:13 |
| 18 | Caugnaud Eric | France | 02:00:26 |
| 19 | Martin Gregory | France | 01:48:00 |
StreetLuge Woman:
| | | | |
| --- | --- | --- | --- |
| Classement | Nom Prénom | Pays | Temps de qualif |
| 1 | Nobre Angelina | France | 01:50:34 |
| 2 | Rivière Carole | France | 01:53:28 |
| 3 | Quemener Soizic | France | 02:03:82 |
| 4 | Sentenac Sophie | France | 02:16:53 |
ButtBoard Man:
| | | | |
| --- | --- | --- | --- |
| Classement | Nom Prénom | Pays | Temps de qualif |
| 1 | Dekyndt Gauthier | France | 01:48:07 |
| 2 | Chaperon Stéphane | France | 01:47:84 |
| 3 | Tournissac Sebastien | France | 01:48:36 |
| 4 | Etienne Martin | France | 01:49:83 |
| 5 | Zaccaro Loic | France | 01:48:50 |
| 6 | Labarthe Yvon | Suisse | 01:48:40 |
| 7 | Debure Jean-Baptiste | France | 01:50:51 |
| 8 | Caillaud Alexis | France | 01:51:74 |
| 9 | Filiatre Nicolas | France | 01:50:54 |
| 10 | Rubi Maxime | France | 01:50:54 |
| 11 | Blondeau Pascal | France | 01:50:57 |
| 12 | Fromenteil Pierre | France | 01:54:96 |
| 13 | Fouquet Maxime | France | 01:51:51 |
| 14 | Courtois Thibault | France | 01:58:61 |
| 15 | Gillissen Damien | France | 01:53:66 |
| 16 | Gerber Gregory | France | 02:07:08 |
| 17 | Jégou Loic | France | 02:04:80 |
| 18 | Cahu Sylvain | France | 01:55:19 |
| 19 | Massieye Adrien | France | 01:54:34 |
ButtBoard Woman:
| | | | |
| --- | --- | --- | --- |
| Classement | Nom Prénom | Pays | Temps de qualif |
| 1 | Nobre Angelina | France | 01:51:29 |
| 2 | Rivière Carole | France | 01:52:06 |
| 3 | Quemener Soizic | France | 02:03:31 |
| 4 | Mordon Séverine | France | 02:18:75 |
| 5 | Sentenac Sophie | France | 02:15:92 |
Standup Man:
| | | | |
| --- | --- | --- | --- |
| Classement | Nom Prénom | Pays | Temps de qualif |
| 1 | Fuchs Bruno | Suisse | 01:46:08 |
| 2 | Tournissac Sebastien | France | 01:48:55 |
| 3 | Debure Jean-Baptiste | France | 01:46:91 |
| 4 | Babilot Jocelyn | France | 01:48:52 |
| 5 | Ritschard Pierre-Yves | France | 01:50:49 |
| 6 | Burel Cédric | France | 01:50:48 |
| 7 | Lins Luis | Brésil | 01:49:57 |
| 8 | Baurain Antoine | France | 01:52:11 |
| 9 | Froment Jody | Suisse | 01:49:45 |
| 10 | Courtois Thibault | France | 01:49:76 |
| 11 | Blondeau Pascal | France | 01:50:65 |
| 12 | Milasson Janick | Suisse | 01:55:58 |
| 13 | Martinez Jonathan | France | 01:48:75 |
| 14 | Linder Jojo | Suisse | 01:51:59 |
| 15 | Pujol Ribalta Eloi | Espagne | 01:51:96 |
| 16 | Delvallee Damien | France | 01:54:78 |
| 17 | Labarthe Yvon | Suisse | 01:49:69 |
| 18 | Zaccaro Loic | France | 01:52:66 |
| 19 | Brault Romain | France | 01:53:69 |
| 20 | Massieye Adrien | France | 01:54:21 |
| 21 | Gerard Felliu | Espagne | 01:54:41 |
| 22 | Grand Camille | France | 01:54:69 |
| 23 | Tisserand Arnaud | France | 01:56:01 |
| 24 | Caillaud Alexis | France | 01:57:07 |
| 25 | Gayraud Clément | France | 01:50:30 |
| 26 | Simenel Nicolas | France | 01:52:87 |
| 27 | Bareaud Olivier | France | 01:53:78 |
| 28 | Salle Sébastien | France | 01:55:72 |
| 29 | Horion Boris | France | 01:55:81 |
| 30 | Sergi Garrudo | Espagne | 01:56:56 |
| 31 | Waeber Martin | Suisse | 01:57:45 |
| 32 | Yamba Julien | France | 02:04:36 |
| 33 | Bernat Felliu | Espagne | 01:55:57 |
| 34 | Bessière Romain | France | 01:57:58 |
| 35 | Egligeau Didier | France | 01:58:32 |
| 36 | Espau Patrice | France | 01:58:59 |
| 37 | Bethus Yoann | France | 01:58:68 |
| 38 | Merceron Nicolas | France | 02:01:67 |
| 39 | Fertray Didier | France | 02:02:78 |
| 40 | Marie Nicolas | France | 02:03:82 |
| 41 | Aguila Vincent | Espagne | 02:04:89 |
| 42 | Glaize Stéphane | France | 02:05:27 |
| 43 | Debril Nicolas | France | 02:08:26 |
| 44 | Delattre Jean-Sébastien | France | 02:11:39 |
| 45 | Forest Gregory | France | 02:16:15 |
Standup Woman:
| | | | |
| --- | --- | --- | --- |
| Classement | Nom Prénom | Pays | Temps de qualif |
| 1 | Angelina Nobre | France | 02:00:70 |
| 2 | Nadia Rasamoely | France | 02:07:36 |
Bilder from Koma
Bilder Kraken
Bilder Asgum
Video Yvon click here
Produkte, die Sie interessieren könnten