Das Brasilien eine gesunde Szene hat ist nichts Neues. Downhill, Bowls und Street wird hart geskatet. Und was ist mit Sliden? Ja, das ist Fernando Yuppie....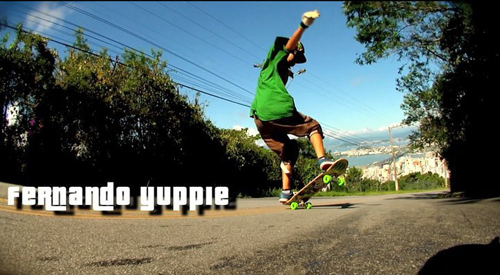 HEY DAMIEN SICK MAN FOR SURE I CAN SEND THIS FOR YOU. YES MAN SKATE FOR LIFE THIS IS MY LIFE, SKATE EVER DAY!
Hey Fernado, what is the kick when you are sliding?
I JUST TRY TO KEEP ON MY BOARD!!! GRAVITY, HAHAHA
How long do your wheels last?
SOMETIMES ONE DAY ONE SET OF WHEELS. BECAUSE I LOVE BIG FAST SLIDES. ESPECIALLY WHEN WE ARE SHOOTING FILMS. BUT ABEC 11 ARE PERFECT WHEELS FOR THAT!
What setup do you use for sliding?
JET SKATEBOARD DECK 33, INDY TRUCKS, ABEC 11 MY PROMODEL WHEELS.
MY SLIDE FREERIDE SETUP; JET TOP MOUNT, ATTACK TRUCKS AND ABEC 11 FREERIDES.
When did you start skateboarding?
I WAS 3 YEARS OLD WHEN MY DAD GIVE ME MY FIST SKATE.
The best slidespot you ever skated?
HOLLYWOOD HILLS CALIFORNIA
Are there lots of people doing sliding in Brasil?
YES MAN LOTS FRIENDS DOING SLIDES IN BRAZIL. BUT NOT MANY HAVE SPONSORS FOR SKATE. DOWNHILL SLIDE COSTS LOT OF MONEY!
Have you ever messure your longest slide?
NEVER, BUT I DO BIG SLIDES FOR LIFE, CHECK MY VIDEO MAYBE YOU
MESSURE THIS
.
Last Words...
THANX TO MY SPONSORS WHO HELP ME TO SKATE EVER DAY, ABEC 11, JET SKATEBOARD, CURVA AND JET ATTACK TRUCKS.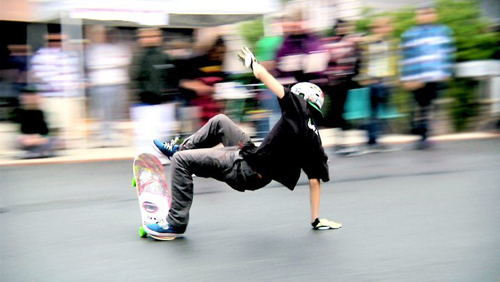 All Pics are taken from Fernando Yuppie´s Facebook Site
Produkte, die Sie interessieren könnten