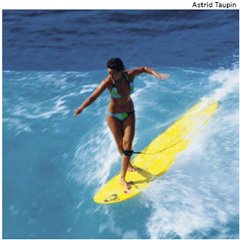 Vom 3. bis 9. Juli veranstaltet Roxy die erste ASP-anerkannte Weltmeisterschaft im Frauen-Longboarden an der Côte des Basques in Biarritz, dem Surf-Mekka Europas.
Der Roxy Jam in Biarritz, ein einwöchiges Event mit vielen Live-Konzerten und Ausstellungen, hostet die erste von der Association for Surfing Professionals (ASP) anerkannte Weltmeisterschaft im Frauen-Longboarden. Eine der 48 Weltklasse-Surferinnen aus Australien, Hawaii, Japan, Frankreich oder Großbritannien wird als erste Weltmeisterin im Frauen-Longboarden Geschichte schreiben. Teenie Wahine, die Kids-Linie, veranstaltet am 5. Juli einen eigenen Contest für die kleinen Talente.
Kunst und Musik bereichern neben der Weltmeisterschaft den Roxy Jam in Biarritz. Während des gesamten Events stellen Künstler wie der baskische Designer Gerard Decoster und die Künstler-Gruppe Space Junk aus Grenoble aus.
Highlight der "SurfArt Week" ist die Keep-A-Breast-Ausstellung: Abgüsse der Oberkörper verschiedener Surf-Champions werden genommen,von Künstlern gestaltet und geschmückt. Die Büsten können ersteigert werden und der Erlös kommt der Brustkrebshilfe zugute.

Roxy hat für den Jam ausschliesslich Frauen-Bands gecastet, es treten international bekannte Größen, wie The Organ aus Vancouver, die Londoner Sängerin Cibelle und Neneh Cherry, Queen of Trip Hop, auf. Zudem wird im Rahmen einer Kollektions-Präsentation die aktuelle Beachwear von Roxy vorgestellt.
MEHR AUF WWW.ROXY.COM

TIMETABLE
mondaY 3 JULY LoCatIon, Côte des basqUes
tIde, hIgh 10.40am / Low 4.38am
9.00am roxy Jam opening ceremony
10.00am-6.00pm roxy Jam wLC waiting period
12.00pm private exhibition: space Junk
2.00pm private exhibition: g. decoster.
3.00pm opening of artistic activities
6.30pm-9.00pm roxy sound waves: concerts by marloes,
Lee ann Curren, titus kinimaka and melvin puu.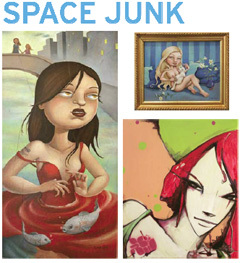 tUesdaY 4 JULY LoCatIon, Côte des basqUes
tIde, hIgh 11.40am / Low 5.35pm
8.00am-6.00pm roxy Jam wLC waiting period
9.00am-6.00pm site opens (art exhibition, kids' tents,
artistic activities)
6.30pm-9.00pm roxy sound waves: concert by sadie Jemmett
wednesdaY 5 JULY LoCatIon, Côte des basqUes
tIde, hIgh 12.43pm / Low 6.37pm
8.00am-6.00pm teenie wahine Contest
9.00am-6.00pm site opens (art exhibition, children's tents,
artistic activities)
6.30pm-9.00pm roxy sound waves: concert by rose kemp
thUrsdaY 6 JULY LoCatIon, Côte des basqUes
tIde, hIgh 1.42pm / Low 7.39pm
8.00am-6.00pm roxy Jam wLC waiting period
9.00am-6.00pm site opens (art exhibition, kids' tents,
artistic activities)
3.00pm expression session (weather permitting)
6.30pm-9.00pm roxy sound waves: concerts by girls'n roses
and the organ
FrIdaY 7 JULY LoCatIon, Côte des basqUes
tIde, hIgh 2.36pm / Low 8.12am and 8.37pm
8.00am-6.00pm roxy Jam wLC waiting period
9.00am-6.00pm site opens (art exhibition, kids' tents,
artistic activities)
LoCatIon, bIarrItz oLd port
8.00pm-midnight warm-up by Cibelle
neneh CherrY
1.00am "after" with neneh Cherry mix
satUrdaY 8 JULY LoCatIon, Côte des basqUes
tIde, hIgh 3.26pm / Low 9.05am
8.00am-6.00pm roxy Jam wLC waiting period
9.00am-6.00pm site opens (art exhibition, kids' tents,
artistic activities)
7.00pm-9.00pm auctions of keep-a-breast busts -
radisson hotel terrace
dJ set by girls'n roses
11.00pm-midnight roxy sound waves: concert by girls'n roses
11.00pm Firework display
sUndaY 9 JULY LoCatIon, Côte des basqUes
tIde, hIgh 4.13pm / Low 9.53am
8.00am-2.00pm roxy Jam wLC waiting period
9.00am-6.00pm site opens (art exhibition, kids' tents,
artistic activities)
2.00pm roxy Jam wLC Finals
3.00pm roxy Jam wLC awards ceremony
4.00pm roxy Jam closing ceremony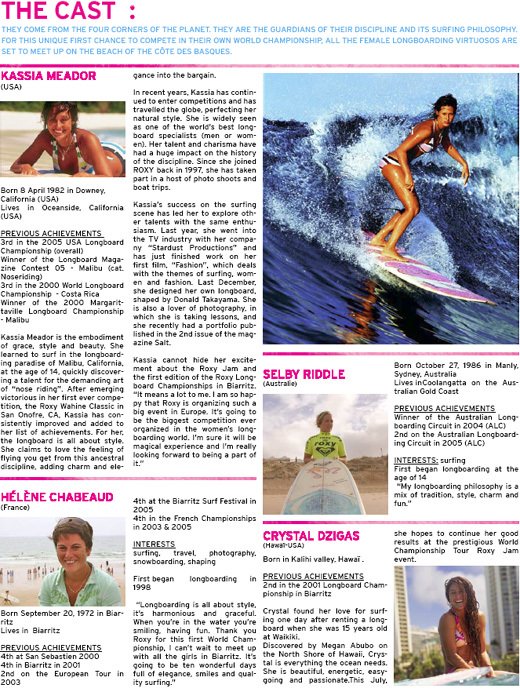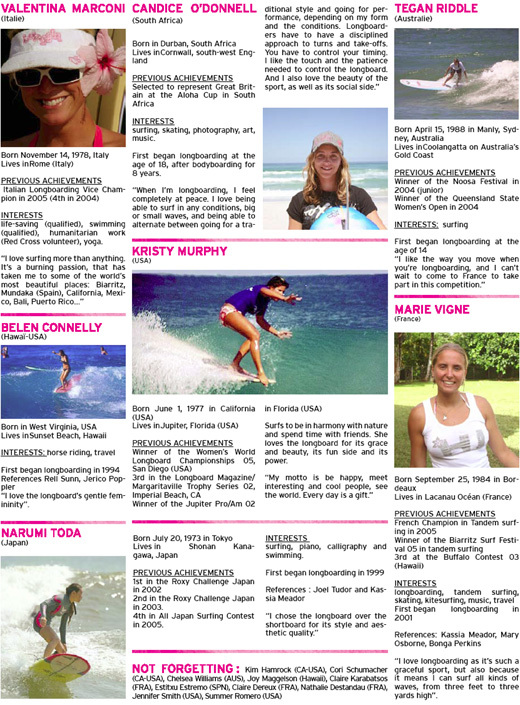 Produkte, die Sie interessieren könnten