Sick City Interview

1. You are the new shooting stars from Winnipeg in Canada. The famous Weakerthans come from Winnipeg as well. Do you know the guys?
Dave: Not personally no. Amazing band, the lead singer actually used to play in one of Winnipegs most famous punk bands *Propagandhi*. We all listened to that band growing up, and actually, we still spin those old propagandhi records to this day! Josh our singer is a huge Weakerthans fan, he would have much more to say. Very talented, proud to say they are from Winnipeg.

2. Please tell us more about the foundation of Sick City and about the people in the band.
Dave: Dorian, Joel, and I (Dave) started the band when we lost touch with our singer/bass player at the time. We jammed and wrote for 2 years until we found Josh, and T.J. All of us had played in bands previously with little success, and were looking for something fresh. We're 5 unique individuals with 5 different tastes in music….thats the foundation of our band. Dorian writes most of the riffs and Joel makes the song one of a kind with his beats. We all work at arrqanging the songs, then Josh adds the cherry on top with his melodies and his lyrics.

3. How would you descibe your sound to all the people hating the word emo?
Dave: Our music comes from lots of rock/metal influences, while joshs melodies and lyrics come from more pop/indie rock influences. It is what it is. We try and put a modern spin on a tried and true formula of rock. We write music that makes us feel stoked on playing it and in turn I think people with all tastes can enjoy. All music is emotional. If it doesn't stur some kind of emotion it's not worth listening to.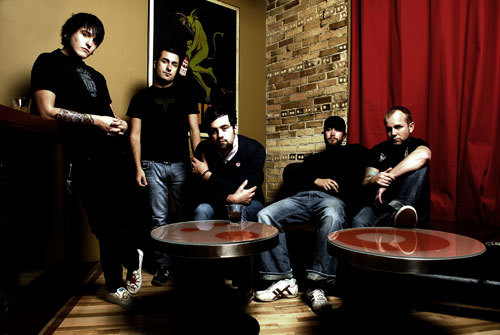 4. What do you want to reach with your music? To make your listeners think and cry?
Dave: We want people to feel all sorts of emotions when they listen. I guess writing music for us is like a release of all of the things we feel as we grow up and face the world on a day to day basis. If we were happy 100% of the time we would write all happy songs. But the truth is we're not. We feel a wide range of emotions daily and our music reflects that. We try to keep things interesting, for ourselves and for our fans.
5. How is writing the lyrics and what do you want to express with them?
Dave: Josh writes all of the lyrics. He does pull from personal experience, but at the same time he likes to tell storys, sort of like when you see a movie and it says, "based on a true story", it comes from real experiences, but I think he likes to dress it up a little, for entertainment sake.
6. To which bands do you love to listen to personally?
Dave: I'm listening to the new Jimmy Eat World like crazy these days. Also loving the new Atryeu record. Two totally different records, but both are amazing.
7. What makes you going on with the band, writing new songs and what does the band mean to you?
Dave: We all love this band, and love writing and playing music. When we set out with this band we knew we wanted to take it as far as we could, and thats still the plan. This band means everything to me, without it I would be a lonely warehouse worker.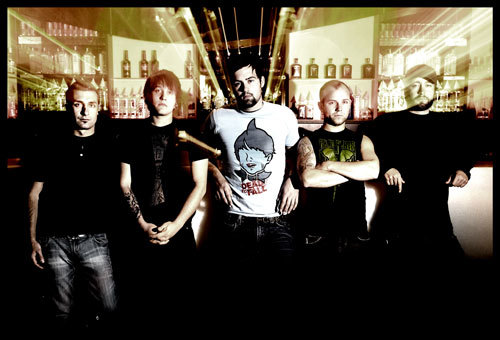 8. Okay, now try to describe you new album "Nightlife" and explain why you use pop, rock and emotions as well.
Dave: This album was 2 years in the making, we powered everything we had into it. We pride ourselves on being diverse, and fresh with our music, and our melodies. Nightlife reflects a lot about all of us, and about the last 2 years of our lives.

9. What exactly does this kind of music mean to you?
Dave: Its something that you can throw on any time of day, morning to night. There's songs in there for everyone.

10. What especially do you like to do when you're at home in Winnipeg?
Dave: Love spending time with friends, and family. Also looking forward to writing some new songs while we're home this winter.

11. Which bands influenced you most over the years and still do influence you?
Dave: Nirvana. Green Day. The Beatles. The Guess Who. Motley Crue. AC/DC. The Used. Finch. Taking Back Sunday. Jimmy Eat World. NOFX. Propagandhi. If you asked everyone in my band this question, you would get 5 different lists!

12. Are you coming to Europe next year? If yes, please don't miss to visit Southern Germany.
Dave: We would be stoked to come out there!! We love you Germany!!! No plan as of yet, but nothing would make us more excited than to come over to Europe and bring the rock.



13. Your new songs are extremely catchy and profound. Do you already own a big fanbase in Canada?
Dave: Its been slowly builing over the last little while. Its definitly the biggest here in Canada, yes.

14. Thanks a lot for this interview. Keep on rocking. I love your new album!
Dave: Not a problem, can't wait to come over there! Cheers.


Listen To Sick City@Myspace, Trustkill Records Website



Produkte, die Sie interessieren könnten